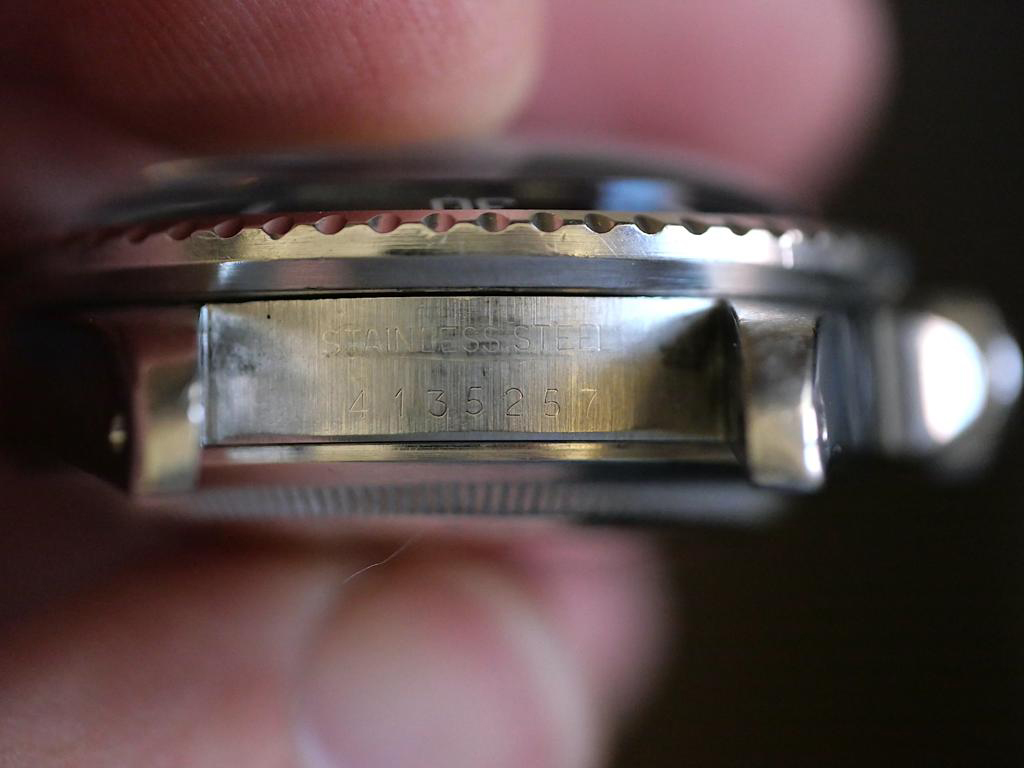 "Robert, you're a genius!"
We're not going to rewrite the whole story of the Rolex Sea-Dweller 1665 for the 100th time. Others have already done so, and quite well actually.
Instead, we're going to take a quick look at one particular series in the history of the Rolex 1665 Sea-Dweller, complete this story and show you that with Rolex nothing is ever set in stone.
Let's talk about the 1665 Sea-Dweller Mk0 Big White.
During a lunch in Paris with my friend Stéphane Medam from Wordlywatches in our favorite Japanese restaurant, we both shockingly realized that we didn't know everything about the Rolex 1665 Sea-Dweller Mk0 Big White.
It has been acknowledged since its discovery that the serial range of the 1665 Sea-Dweller Mk0 Big White stands between 5.0 and 5.2, with an ultimate serial at 5.175xxx. So we realized at this very moment that there was another serial range for the Mk0 Big White!
Indeed, during our discussion we got more and more surprized since we realized that stephane and I owned 3 examples of the Mk0 Big White, with serial numbers way different from the 5 million so far attributed to the Mk0 Big White.
Stéphane's timepiece with serial number 4,135257 and the two others in my possession with 4,160610 and 4,135292. An other timepiece sold by The Watch Collector Ltd in London also came to my mind, featuring the serial number 4.135236. It couldn't be a coincidence! These watches have always been considered as non-legit: a watch with a double-red serial and a dial replaced by this Big White Mk0 dial during a service!
On a case-by-case basis, that's exactly what I personnaly thought, but if you think a bit about it and put together all the information we have, it's obvious that 3 watches with serial numbers 4.1352xx and one with 4.160xxx totally break the service dial theory into pieces…
It is inconceivable that a Rolex after-sales service manager suddenly decided to replace the dials of all 1665s with serial numbers 4.135xxx and 4.160xxx, substituting them with Mk0 Big Whites.
Imagine the following scene :
– Robert: Francois?

– Francois: Yes Robert.
– Robert: Woke up this morning with this in my mind: let's spread a worldwide memo: all the Sea-Dweller 1665s in service, those with these red written dials and this specific serial number 4,1xxxxx and a little more, well, you declare that they have to be systematically replaced by this one written in white!! We're going to make a goddamn mess! Just imagine 40 years from now, they won't get a thing of what's goin' on.
– Francois: gasp Robert, you're a genius!!! ».
Impossible! This is absurd and highly unlikely! So it's clear now that, along with the MK4 double-red dials, a few exemples in this 4.1 serial range were born with one of the rarest 1665 dials ever produced: the Mk0 Big White.
Of course, we're not in any way questioning the initial information we had: a serial range between 5.0 and 5.2 million… but we just wanted to clarify things. Our intention is simply to provide an update so that these watches can finally be acknowledged as legit.
Facts are simply facts… Just saying.